About Kameyama Ceramics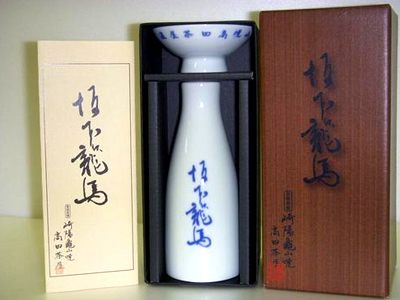 Kameyama Ceramic ware is a type of earthenware made in Nagasaki in the latter half of the Edo era (1603-1868). Manufactured during a short period of roughly 50 years, few items have been passed down to the present day, so they are regarded as illusively rare kiln works.
Many objects have the characters of the engraver's signature, such as "Made in Kameyama," "Made in Kiyo Kameyama" (Kiyo is an archaic term for Nagasaki), and "Kameya" written in cursive or block style writing, bordered by a single square.
Also, it is traditionally said that Ryoma Sakamoto's favourite teacups and rice bowls were Kameyama ceramic wares. 
Ryoma Sakamoto's Favourite Bowls: Kameyama Ceramics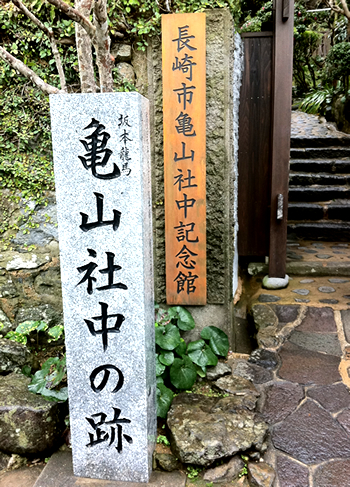 In 1807, Jingobei Okami, Heibei Yamada, Kahei Koga and Furujiyoshi Yorozuya established a kiln workshop in Nagasaki Irabayashi Kakinesan. The establishing costs were covered by Shogunate magistrate Hou Mitsugi.
It is said that the workshop was named "Kameyama Ceramics" as the kiln was initially requested by the Dutch for firing water jugs.
Today, Bunpei Takada's descendent Yuji Takada has revived Kameyama Ceramics as the "Kiyo Kameyama Ceramics Takada Tea House" supported by the collaboration of Kasen Pottery from Mikawachi Ceramics.
From the last days of the Edo era until 1920, the Takada Tea House was run by the Takada family on the land of the Kameyama group.Throughout that period, it is thought the tea house was rented out to the Kameyama group.
The Nagasaki Shimbun paper ran an article on March 3rd, 1937 mentioning that Sakamoto Ryoma temporarily lived at the former Takada Tea House.
Bunjiro Representative Yuji Takada, Descendent of the Takada Family
Bunjiro's Yuji Takada (Representative Director of the Rocky Limited-Liability Company) is currently tackling the restoration of the Kameyama Ceramics that Ryoma Sakamoto also loved, under the name of "Kiyo Kameyama Ceramics."
Ryoma played an active role in the Kameyama group; the whole land the pottery was located on included Ginyamachi Pawn Shop and the Takada family.
Yuji Takada is the descendent of that family. (Note: Kiyo Kameyama Ceramics is a registered trademark.)